ROCK DEMARCO
Painter Of The Superstars & Rock & Roll's Picasso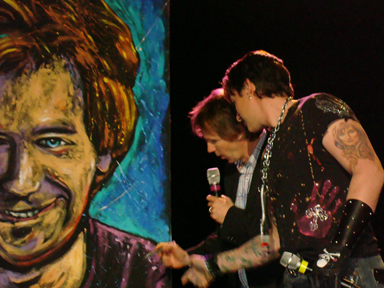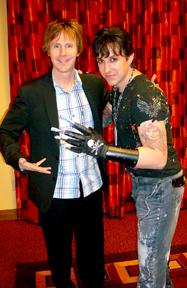 Celebration Of The Sea is thrilled to announce that famed celebrity artist and painter of the Superstars, Rock Demarco will be performing his colorful brand of magic and art alongside the Blues Brothers during the concert and donating the pieces he creates during the show to the event's silent auction to benefit The Buoniconti Fund. Rock is pictured to the left with Dana Carvey who he just painted during a recent perfromance with the superstar comedian. He was also featured during the visit on ABC's Good Morning Texas prior to opening for Dana Carvey. Rock's donated his painting which sold at auction for $17,500 to benefit abused children.

Rock kick started his career as a small child by plastering graffiti on his parent's walls with crayon. Never a fan of mild mannered art, Rock instead takes his audience on a wild ride of imagination by challenging them to look at the world through a different window. His award winning work can be seen from his home of Winter Park Florida all the way across the globe to the airport terminal of San Juan Puerto Rico. Rock's work has sold for 10's of thousands of dollars raising money for various charities and special events. Rock is recognized as the FASTEST PAINTER IN THE WORLD!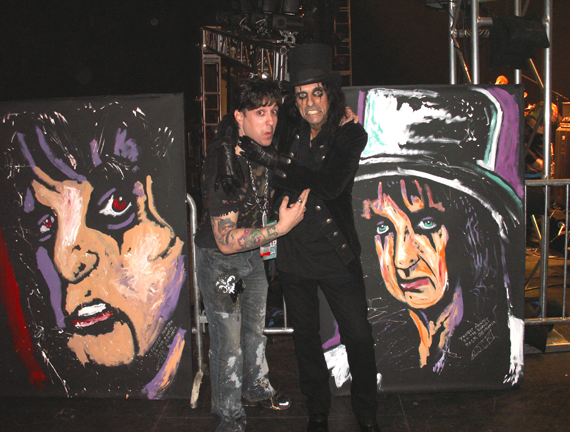 Rock is pictured above with Alice Cooper following one of his off the top painting performances with the famed rocker. Celebration of the Sea and The Buoniconti Fund would like to express our gratitude for Rock's amazing generosity and willingness to contribute his time and artwork to benefit our event.

Please be sure to visit Rock official website at: www.rockdemarco.com/