Celebration of The Sea's
After Party Beach Party
10:00 P.M. To Midnight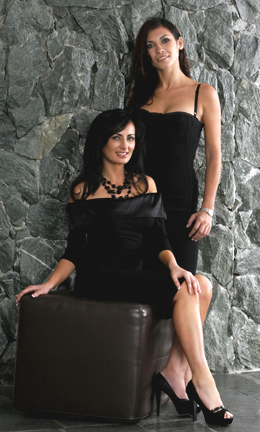 Celebration of the Sea is pleased to announce our "After Concert Beach Party" being held in our VIP Tent will include the magic of Maxim's.

It was inevitable that Christiana Van Ryn and Ana Maria Vatavu's paths would cross and finally it did when they both attended a special event at the Hard Rock Casino in Hollywood. With their always eye catching sense of style, a shared language and cultural background, as well as similarities in their boundless energy for the glitz, glamour, parties and sunshine, it came as no surprise that they would become instant friends and now, business partners.

Together they bring a new sense of imagination, fashion, style and energy that is fast making "Maxim's Events" one of the most talked about and sought after events companies on the Beach. Maxim's Events was created with an European sense of class combined with the eclectic and cutting edge energy that has made Miami Beach and South Florida in general one of the most exciting and vibrating events locations on the globe. Christiana and Ana Maria have turned their longtime friendship and shared Romanian nationality into a unique events planning business.
Now, as a South Florida residents for more that a decade, they have witnessed and been a part of the transformation of South Beach into one of the most exciting and popular destinations in the world. Their natural eye for art, beauty and fun has evolved into a wide network of friends, celebrities and a long list of invitations to some of the most exclusive, special events and parties in South Florida.
Make no mistake, when you want your event to have that "Wow!!!" impact....Maxim's Events will take you there. To get your tickets for the Celebration of the Sea "After Concert Beach Party" Click Here.